In the world of e-commerce email marketing, Omnisend has emerged as a prominent player, offering an array of features, including marketing automation, signup form builders, and SMS marketing capabilities. When you think of front-end e-commerce email marketing companies like Moosend and MailChimp, Omnisend should also come to mind. Let's kick off our Omnisend review with the pros and cons:
---
Pros:
· User-Friendly Interface: Omnisend simplifies email marketing with a user-friendly interface and drag-and-drop template builder, suitable for all skill levels.
· Robust Marketing Automation: Omnisend excels in marketing automation, offering pre-made workflows for scenarios like cart abandonment, streamlining email strategies.
· Omnichannel Marketing: Omnisend enables seamless omnichannel campaigns, integrating email, SMS, Google, Facebook, and push notifications for centralized management.
Cons:
· Basic Email Editor: Omnisend's template editor lacks advanced features, hindering intricate email design and previews, limiting design flexibility.
· Deliverability Challenges: Omnisend's 75.1% deliverability rate raises concerns about email placement in spam folders, impacting campaign effectiveness.
---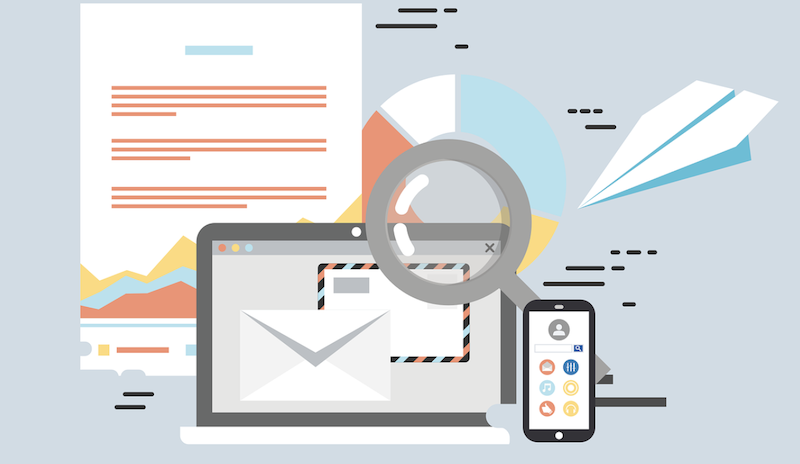 So, What Is Omnisend?
Omnisend is an e-commerce-focused email marketing platform that is committed to helping businesses grow their email marketing programs. Notably, Omnisend doesn't stop at email marketing; it also offers SMS marketing services and boasts seamless integration with over 30 applications, offering versatility in campaign creation and management. With a pricing structure that seems to favor smaller and midsize businesses, it appears accessible to a wide range of users.
Core Features of Omnisend
Omnisend offers a variety of features designed to simplify the email marketing process. Here's a closer look at some of its core capabilities:
Drag-and-Drop Email Template Builder
Omnisend's email template builder provides a library of over 150 pre-made templates for different use cases. However, it's worth noting that some users have found these templates to be rather basic, requiring extensive edits to meet their specific needs. The platform's email editor employs a drag-and-drop interface, making it user-friendly and accessible. Users can easily customize emails with pre-made blocks for headers, footers, text, product listings, and images. A particularly valuable feature is the product picker tool, which, when integrated with your Shopify store, automates the process of populating product details, saving you precious time during email design.
Marketing Automation
Omnisend offers 25 pre-made automation workflows catering to various scenarios, including welcome emails, abandoned cart reminders, and cross-selling email series. Customization options allow users to adapt these workflows to their specific requirements, provided they've integrated their ecommerce store with Omnisend. Users can personalize trigger actions, audience filters, exit conditions, and frequency settings. This level of customization enhances the effectiveness of automation workflows.
Form Builder
No Omnisend review without mentioning the form builder. Omnisend's form builder features more than 70 templates for pop-ups, embedded forms, and landing page forms. These templates are creatively designed and typically require minimal design edits. Form display settings can be customized based on visitor behavior, including page visits, time spent on a page, exit intent, or scroll-based interactions. Additionally, you can specify form scheduling parameters to control when forms are displayed.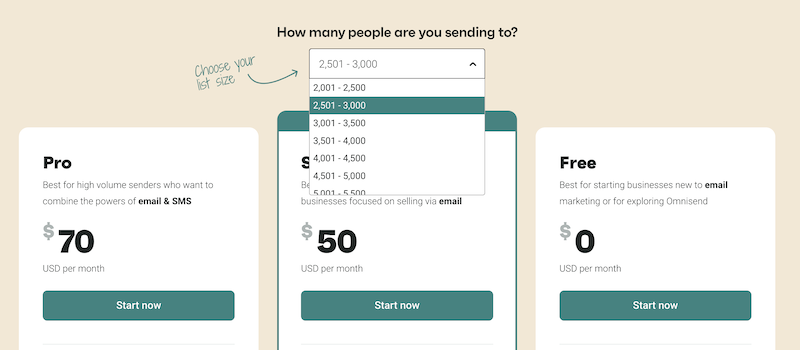 Pricing Overview
Omnisend offers a tiered pricing structure based on the number of contacts, making it a cost-effective choice for businesses of various sizes. The free plan caters to users with up to 250 contacts, while paid plans range from $16/month to $1650/month, accommodating larger contact lists.
Omnisend Review – What We Think!
Omnisend is a versatile tool with distinct advantages, particularly for ecommerce-focused email marketing. Its strengths lie in responsive customer support, integration ease, and the efficiency of its product picker tool. However, users should be mindful of its limitations in template design, email deliverability, and integration capabilities. When considering Omnisend, businesses should weigh these factors against their unique email marketing requirements to make an informed decision about its suitability for their needs.
FAQ:
Is Omnisend good for email marketing?
Omnisend is a decent choice for email marketing, with user-friendly features and automation capabilities, but email deliverability concerns persist.
What is Omnisend for?
Omnisend serves as an email marketing platform, primarily designed for e-commerce, enabling effective email campaigns, automation, and omnichannel marketing.