The overall Yith review conclusion – buy this product!
When operating an online store through WordPress, it is beyond essential to find a great plugin to work with WooCommerce. This is because a great plugin makes it easier to set up your shop, add new features to make the experience for your customers even better, and give your more options than you were thought were famous for your store. Yith is one of the many options WordPress users can pick when they need a little extra help with their online store powered by WooCommerce. This article will serve as an overall Yith review.
Why Is Yith Important?
Many people wonder why a plugin to go along with WooCommerce is needed since all the sales are processed and handled. The answer is, there are several reasons. At the same time, WooCommerse through WordPress and processes sales and payments, a plugin like Yith can add to the experience and increase sales. For example, Yith has different packages to choose from. Some of them are designed to boost conversations and sales, some are there to earn and build customer loyalty, and some are intended to increase average order value.
Yith Review – Boost Conversations And Sales
This option for Yith has many different options for plugins. The first is the Yith WooCommerse Request a quote. This one allows you to hide the price, and the customers instead reach out to you. This is done to inspire conversation, which will hopefully lead to increased sales. Another is the Yith subscription. What this does is sells products through your website with a subscription plan. This is great because, if successful, it provides for future income and encourages customers to remain loyal.
This plugin section allows users to offer gift cards, recover abounded carts in the store, create a coupon emailing system, and add a wish list where customers can suggest products they are interested in purchasing.
Earn And Build Customer Loyalty With Help From Yith
This section of Yith is also divided into individual plugins designed to meet specific website owner needs. For example, one option allows you to create a points and rewards system. This is an excellent idea because it could inspire customers to come back if they know their purchases could lead to free items in the future.
There is also a plugin that allows users to leave reviews in exchange for discounts. Of course, you can regulate this in whatever way makes sense for you and your business, but getting more reviews is a great way to help get the word out about your products and services.
Increase Average Order Value
The final category for Yith is designed to increase customer spending per visit to your online store.
One of the options for this is increased cart messages. The customer receives notifications during the check-out process that would do things such as suggest similar products. This helps to expose them to items they may not have known that you sold.
Another option is the frequently bought together function. As the name suggests, as users buy items, they will receive suggestions for things that match the items they have already picked. This tends to work with many users.
You can also use this theme to allow your victors to receive discounts for sharing your content on social media. This is a great way to spread the word about your business, and you control the discount amount and who would qualify for it.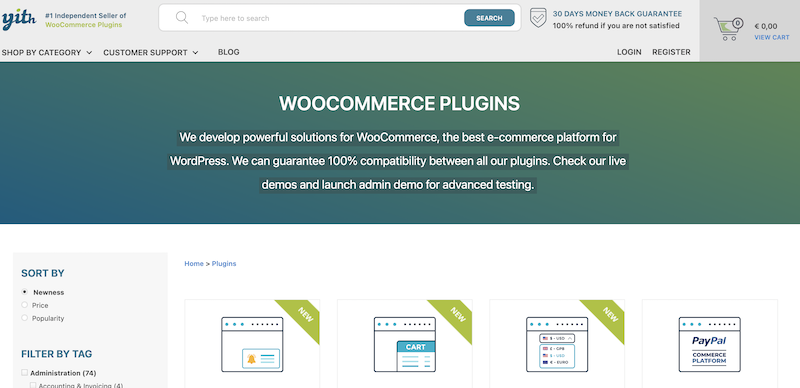 Yith WooCommerce Review
One of the most important aspects of a Yith review should be a review of Yithw WooCommerce products. Yith offers different great features, including YITH WooCommerce Advanced Reviews of individual products, and gives the customers the possibility to add pictures to their reviews.

The Yith WooCommerce products are of high quality and are an essential factor in a positive Yith review.
Yith Review – Conclusion
If you operate an online store on your WordPress site using WooCommerse, the Yith plugin will be perfect for you. This is because WordPress does everything you need it to do. Yith has many different options that make it much easier for you to promote your products. Yith makes it possible to engage with your audience, and offer incentives for them to help you grow your business. With the use of Yith, you will transform your store beyond anything you ever envisioned. This is because they have the needed tools to truly take it to the next level regarding both marketing and customer experience. There are various price points for Yith, and you can properly find a Yith coupon code online for it.