Are you looking to save up to 50% of your subscription with Nexcess discount codes?
Nexcess is an industry leader in providing fully managed web hosting services. Therefore, even saving 30% with such a reliable hosting service is a huge win. With Nexcess, you have peace of mind knowing an enterprise-level web hosting company is handling everything for you. You can then dedicate more time to things that steer your business forward, such as digital marketing, content creation, and link outreach.
Still, Nexcess products are premium-priced. That's why it is a good idea to use Nexcess discount codes to get a price slash. This guide will tell you how to save with Nexcess discount codes and how to get the discount codes.
Why It's Wise to Use Nexcess Discount Codes
When selecting hosting plans, you can go with three options. One is shared hosting, often the preferred choice for people building a site for the first time, those migrating from WordPress, and those on a strict budget. However, shared hosting has cons like hidden costs, throttling, and resource scarcity.
The second option is to go with the DIY WordPress hosting way. You can save money with this approach, but still, you might want to think about performance. Additionally, a lot can backfire if you don't know what you're doing. You get what you pay for – you could end up paying hefty prices with cheap hosting or waste a lot of time you could otherwise invest in growing your business.
The third option is managed WordPress hosting – the real deal for medium-sized businesses, blogs with high traffic, and enterprise companies looking for specialized services. With managed WordPress hosting, your web host handles everything for you while you focus on other areas of your business.
Nexcess Hosting Vs. Other Hosting Providers
You could opt for cheaper options like SiteGround and Bluehost, but they are not the best if you have high-traffic needs or need a service with dedicated customer support. With Nexcess WordPress hosting, you get everything you need – excellent uptime, reliable customer care, regular monitoring, and enhanced security.
However, Nexcess-managed hosting is comparatively expensive compared to WP Engine, Pagely, SiteGround, and Bluehost. That's why it's a good idea to take advantage of Nexcess discounts to "save money" with managed WordPress hosting. You can get anywhere from 20% to 60% off with Nexcess discounts or promo codes. A discount code can save hundreds of dollars on your first purchase of Nexcess-managed hosting.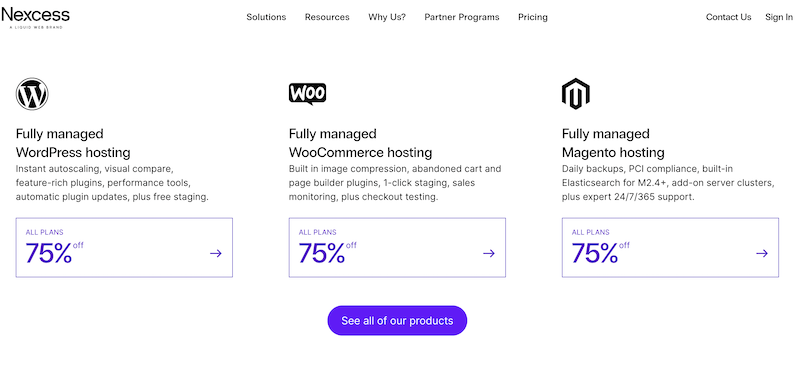 How to Get Nexcess Hosting at A Discounted Price
Nexcess targets professionals in the industry by offering a myriad of unique features. Once you sign up with Nexcess, you can enjoy many perks, like creating stencil sites from your WordPress framework. If you are a beginner, an add-on like the StoreBuilder will make it easy to set up your eCommerce store.
You can always contact the Nexcess team for assistance if you encounter any difficulties. In addition, Nexcess has dedicated email support, phone support, and a live chat option.
But Nexcess isn't on the list of affordable hosting plans – it's comparatively expensive. You might want to try Nexcess discount codes to get a price slash.
All you need to do to get Nexcess at a price that suits your budget is find a working, verified discount code and use it on the checkout page when signing up for your ideal Nexcess plan.
Here are the steps to follow to get Nexcess-managed hosting services at a reduced price:
First, navigate to a site offering Nexcess promo codes.
Get the code.
Sign up on Nexcess and choose a hosting plan.
Add to cart.
Enter the promo code in the field 'Do you have a promo code?'.
Choose a payment method.
Complete your purchase.
Terms of Use: What You Should Know About Promotional Codes
Coupon codes can save you money when you're on a tight budget, but it's always a good idea to with the terms of use when using promo codes. Here are some points to keep in mind when using Nexcess coupon codes:
Usage limit: Most promo codes have a limit of one usage. Once the discount is applied, you cannot redeem another promotional credit. If you try to save more than one offer, Nexcess invalidates all existing promotional codes you had.
Limited time: Promotional codes have a small time window. If you fail to use the code during the specified period, it will not work. For Nexcess, promotional codes expire in around six (6) months.
No stacking: You are not allowed to stack up coupon codes. If you have two coupon codes, you can only use one of the coupons to get a discount.
Where to get Nexcess coupon codes
Inside host – Get up to 60% off with most deals listed.
Offers – get between 50% and 60% off.
Websiteplanet – This site can save you 60% off or $13.30 monthly.
Knoji – Knoji has promo codes that save you up to 50% off.
Nexcess Discount Codes FAQ
Does Nexcess offer working discount codes?
Yes. You only have to visit exclusive sites with active coupons. 
Is Nexcess a good alternative?
Nexcess is among the leading providers of fully managed WordPress and Magento 2 hosting services. Nexcess offers so much more than your typical hosting company. We are talking about a 100% guarantee server uptime rate, premium plugins, free auto-scaling 24 hours, routine monitoring, enhanced security protocols,
What's the best discount I can get with Nexcess promo codes?
You can get up to 60% off with Nexcess discount codes.
Does Nexcess offer discounts on all its plans?
Yes, Nexcess discount codes apply for all plans on sale.
Where can I find the best Nexcess deals?
Check out the Nexcess promo page or its partner sites. You can also try your luck with the places we've listed above.