Exceptional Selection of Framer Templates; SuperbThemes.com is simply outstanding! They have gathered the best selection of Framer products that we have ever come across. Their marketplace is a true treasure trove of high-quality Framer templates that will exceed your expectations. Read more in our SuperbThemes Framer Marketplace review here.
Standout Framer Templates: Minimalistique, Neo, and Carbon
What sets SuperbThemes apart is their collection of Framer templates, namely Minimalistique, Neo, and Carbon. These templates are hands down some of the best we have ever seen. They exhibit outstanding design, functionality, and customization options, making them perfect for any project.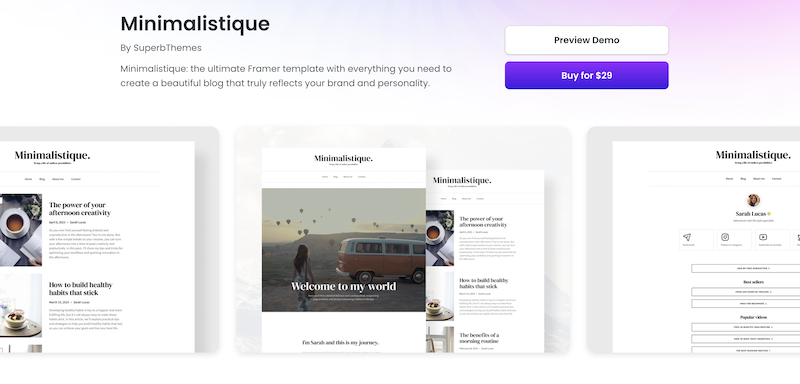 Our SuperbThemes Framer Template Pick "Minimalistique"
The Minimalistique Framer template is a fantastic choice for bloggers and influencers looking to establish an online presence with a sleek and stylish design. It eliminates the need to start from scratch, providing everything necessary to create a beautiful blog that reflects your unique brand and personality. With its stunning front page features, user-friendly navigation, integrated Mailchimp newsletter section, and convenient link tree page, Minimalistique empowers you to engage readers effortlessly. Elevate your blog and captivate your audience like never before with this powerful template. Furthermore, the "Minimalistique" Framer template is only 30 USD; you can get an additional 15% using the Framer discount code.
Save 15% on your next Framer purchase!
Commitment to Quality and Excellence
The dedication to quality is evident throughout SuperbThemes. They have a meticulous curation process, ensuring that only the crème de la crème of Framer templates make it to their marketplace. Each template is handpicked by experienced developers and designers, guaranteeing the highest standards of excellence.
Extraordinary Range of Templates for Every Need
SuperbThemes offers an extraordinary range of templates for every need. Whether you're setting up a website for an agency, startup, business, or any other purpose, they have you covered. Their responsive templates adapt seamlessly to any screen size, delivering an optimal user experience on any device. Their SEO templates enhance your website's visibility and ranking in search engine results.
Handpicked Framer Templates and Popular Options
We also appreciate their category of Handpicked Framer Templates, which showcases extraordinary options for those unsure about the type of template they need. Additionally, sorting templates by "Popular" allows you to explore the most sold and highly acclaimed options on SuperbThemes.
A Seamless, User-Friendly Experience
As an official Framer marketplace, SuperbThemes upholds the high standards and quality that Framer represents. Their commitment to providing a seamless, user-friendly experience is evident in every aspect of their platform. Thanks to their intuitive interface, browsing through their rich collection of templates is a joy.
The Verdict
SuperbThemes.com's new Framer marketplace deserves a resounding top rating. Their exceptional selection of Framer products sets them apart. The quality, diversity, and user-friendliness of their templates, coupled with their commitment to excellence, make them the go-to destination for anyone seeking the best Framer templates.
Fact Box: What is Framer?
Framer.com is a platform that allows you to build professional websites easily and quickly without coding knowledge. With Framer, you can start your dream site with AI, generate a beautiful initial version, and customize it to your liking. The platform offers robust design and layout options, including positioning options for top bars, sidebars, badges, and backgrounds. Framer also provides seamless integration with Figma, allowing you to copy and paste your web designs directly from Figma to Framer. Additionally, Framer supports the creation of forms and inputs, enabling you to add contact forms, service-integrated forms, or custom forms to your website. Whether creating a blog, managing an event schedule, or optimizing your site for SEO, Framer offers the necessary tools and features. With Framer's emphasis on zero code and maximum speed, you can quickly build and ship sites of any size, solo or with your team.
What is SuperbThemes?
SuperbThemes is a WordPress and Framer marketplace that sells their own and designers' templates for them. 
What is a templates marketplace?
A template marketplace is a place from where you can buy your templates. A template marketplace typically allows others to sell their templates on the platform.  
What makes the SuperThemes Framer marketplace unique?
SuperbThemes has partnered with Framer.com to make a Framer marketplace where you can get an overview of the best and most popular Framer themes.