WordPress is an effective tool for selling products online. There are many ways to create online stores to sell merchandise, art pieces, or whatever else you happen to be good at. However, finding creative ways to present your products to potential customers fully can be the hard part.
CartFlows Review Pros And Cons
Pros:
WordPress one click upsell
You can use your favorite page builder
Great templates
You can build all kinds of funnels with CartFlows
Resonal price
Great support
It is integreted with WordPress
Integreted with WooCommerce
Cons:
Only WordPress
More video guides to get us going.
Let CartFlows Help you
This is where services like CartFlows come in. They are the number one sales funnel builder for both WordPress and WooCommerce. Essentially, CartFlows can serve as a full-scale design team for your site. In addition, it has valuable features such as an entire library of templates and simple ways to import.
CartFlows truly stands out from the rest. It makes things easier for both the business owner and the customer; it saves you money and has excellent customer service. We'll get into all that and more in our review of CartFlows.
What is CartFlows?
Many people who use WordPress have heard of CartFlows but may not have been fully aware of what it was. CartFlows is a sales funnel builder created for WordPress. This means that it helps sell both products and services to your customers by directing them to things on your site that they may be interested in. This is based on how the customer interacts with the content on your site.
According to their website, their goal is to create more profits for your WordPress site, increase conversions, and get new customers. It is recommended for everyone from bloggers to real estate agents.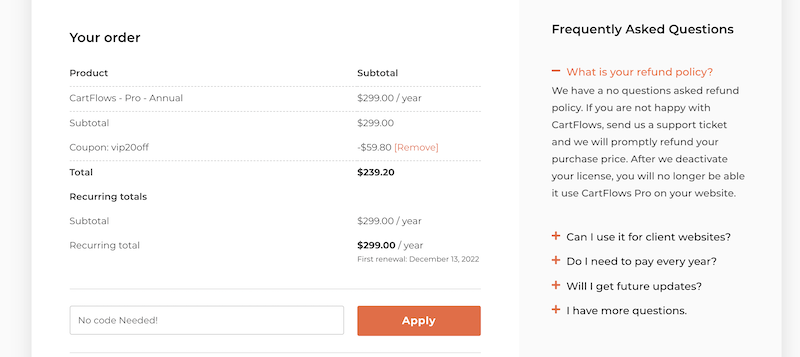 Features of CartFlows
Let's first discuss the essential features that come with CartFlows. One of the main ones is the fact that it has ready-to-use templates. Currently, there are four free templates to choose from and 6 for people with a premium subscription. This is more than enough websites, even the free versions. In addition, they work for most page builders. Some examples of these templates' page builders are Elementor, beaver builder, Divi builder, and thrive architect. This is important because you want various page builders and other plugins.
Also, they work with free versions of page builders, which means you won't have to spend any extra money converting to a paid version. This happens to be another feature as many systems of this type are limited with the software the plugins they work with.
There is also a global checkout for both the free and pro versions of CartFlows. This means you can replace the usual WooCommerce checkout page with an option from CartFlows. This way, when someone buys your products, they have a higher chance of adding to their cart because CarFlows will help recommend other products. But, again, this is very simple, as are most things in CartFlows.
If you chose the Pro version of CartFlows, Check your usual channels for CartFlows discount codes like TechRadar, Superb Themes, or even CNN!
CartFlows, Cart Abandonment and Custom Script Support
Cart abandonment and custom script support are two other great features CartFlows offers. Cart Abandonment is seen as a problem for many online businesses, and this is a way to help. Essentially, when a person abandons a cart, if they have provided an email address, the system will send them a message regarding their potential purchases.
Custom script support allows you to have more control over your sales funnel. For example, it lets you create a live chat shortcode; you can add custom pixels, bots, and many other things. But, again, this is super easy to do with CartFlows.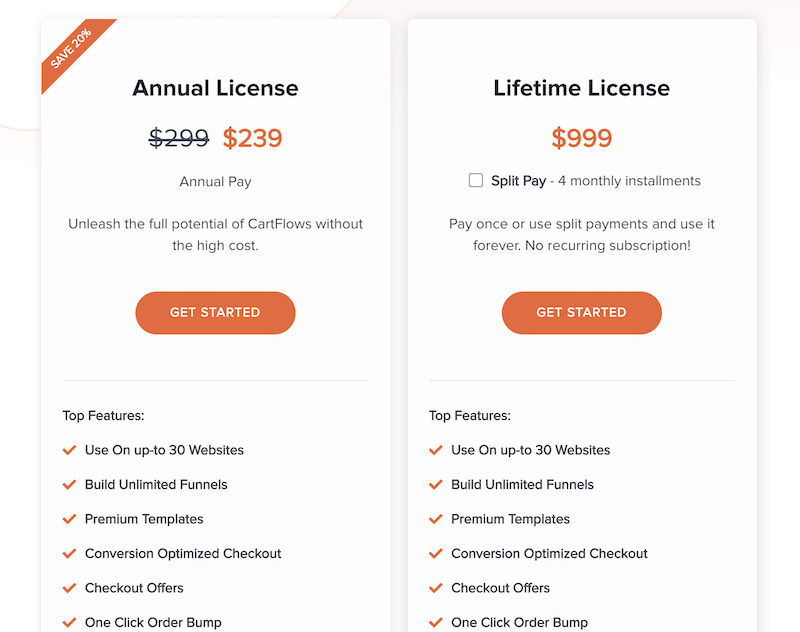 The Pro Version
Of course, many people use the accessible version of CartFlows. It works perfectly fine and has a great deal to offer. However, for people who need a little more, there is the Pro Version of CartFlows. It adds things such as the six premium templates mentioned earlier, the ability to customize checkout fields, one-click upsells and downsells, easy to add order bumps, and of course, everything that comes with the free version. There are also many new features planned. One is a training academy, and the other is a way to look at analytics.
CartFlows Pro is also great because it does not cost much money. The average price is $349 per year, but it is $299. That is a lot of value for your money.
The pro version is not for everyone. For most people, the accessible version of CartFlows will be more than sufficient. However, this version will help immensely when funneling and attracting more sales.
CartFlows Review – Final Thoughts
Everyone with an online business has the goal of increasing profits. This is the number one reason to go into business, so it makes sense that people would gravitate to a service like CartFlows. Its system will help funnel sales and create more conversation around your brand. Not only do they have a great product, but their customer service is top-notch. So if you use WordPress and want to increase your sales, this is the product for you.
The CartFlows review verdict – A great buy!
Is CartFlows any good?
CartFlows is one of the most popular sales funnel builders on the market. But is it worth it?
Can you get CartFlows free?
Yes. Like most other WordPress plugins, CartFlows come in a free version and a pro version.